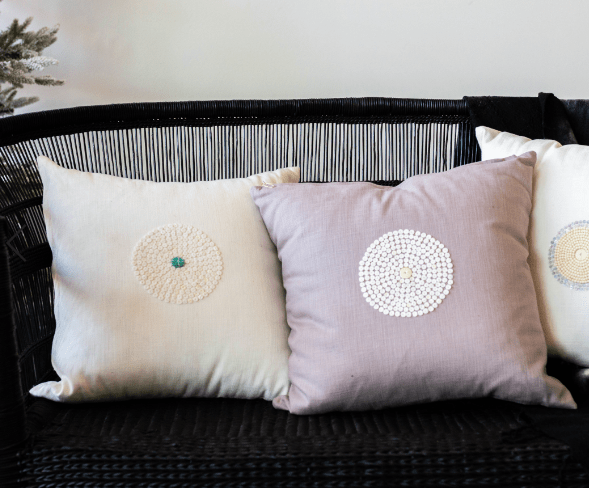 Heishi Trade Bead Pillow
kanju's Heishi Pillow is adorned with a solid ring of white beads— drilled from ostrich egg shells using centuries-old hand techniques
Product Story
kanju's Heishi Pillow is adorned with a solid ring of white beads— drilled from ostrich egg shells using centuries old hand techniques— around a single natural turquoise pendant, the design itself echoing the shape of the traditional 'heishi' ostrich shell bead. These flat round ostrich shell beads are the oldest bead type discovered in the history of mankind, first unearthed in Tanzania and Namibia and dated at over 70,000 years old.
Beneath thatched roofs and in the shade of mango trees, kanju artisans sew, bead, and embroider South African plush cotton pillow covers in both vibrant and subtle hues. Fabric is embellished with unique trade beads sourced from across Africa, some of them centuries old.

Product Detail

Measurements
Small Square - 18"L x 18"H
Large Square - 24"L x 24"H
Lumbar - 24"L x 14"H
Materials
Cotton, Shells
Each pillow is French-seamed and features a concealed zipper closure.

Colors
Black, White, Dusty Lilac
Each is one-of-a-kind and possesses its own unique personality. Variations between items received and images shown can occur. 
Origin
Malawi

Care & Maintenance

Style indoors or outdoors in a dry place. Color may fade over time when left in direct light. Best to hand wash as gently as possible in cool water with mild soap or dry clean.